LEAN INTO YOUR EDGES
CROATIA
June 20th - 27th 2020
Join me in Vis Island Croatia for an unforgettable week retreat filled with yoga, meditation and self -discovery. The retreat is designed to give you the opportunity to move, breathe, meditate, relax, reconnect to yourself, explore a new culture, eat delicious food and enjoy an entire week dedicated to filling up your cup.

You can expect your mornings to start with challenging vinyasa practices, designed to get you to lean into your edges and discover new limits. All sequences will be accessible to all levels. The evening classes will allow you the time to relax, restore and reset. The afternoons are meant for resting, adventuring and using the free time to explore as you see fit.
THE YOGA
Classes will be held on the terrace or the rooftop with amazing views. Yoga mats blocks, straps, blankets, pillows are all provided.

Daily vipassana inspired meditations designed to tune into breath and body sensations. Meditation gives you the chance to create space in between your thoughts. It is common to have a busy mind so giving yourself moments to slow down will have transformative effects in your daily life.
Vinyasa based practices designed to explore and deepen your relationship with your physical body through backbends, twists and inversions. You'll lean into your edges and explore your strength and power. Practices will be accessible to all levels. Whether you are an experienced practitioner or a beginner you will be fully supported while exploring new depths of your practice.
These practices will help improve flexibility, deeply relax the body, still the mind and balance the nervous system. The classes will also help develop compassion and understanding toward others and self.
THE EXCURSIONS
Boat trip to the magnificent Blue cave on nearby Bisevo island
Dinner out to traditional Dalmatian tavern - trying out local fish specialties and locally made wines.

All excursions are optional, please note there is an extra cost associated with these activities.

THE ISLAND
The island of Vis is one of the furthest, most isolated and mysterious Croatian islands. The island charms with its natural beauties – rugged coast around the island, dotted with gorgeous coves and caves as well as a couple of sand beaches, crystal clear sea, surrounding islets and a spectacular green inland.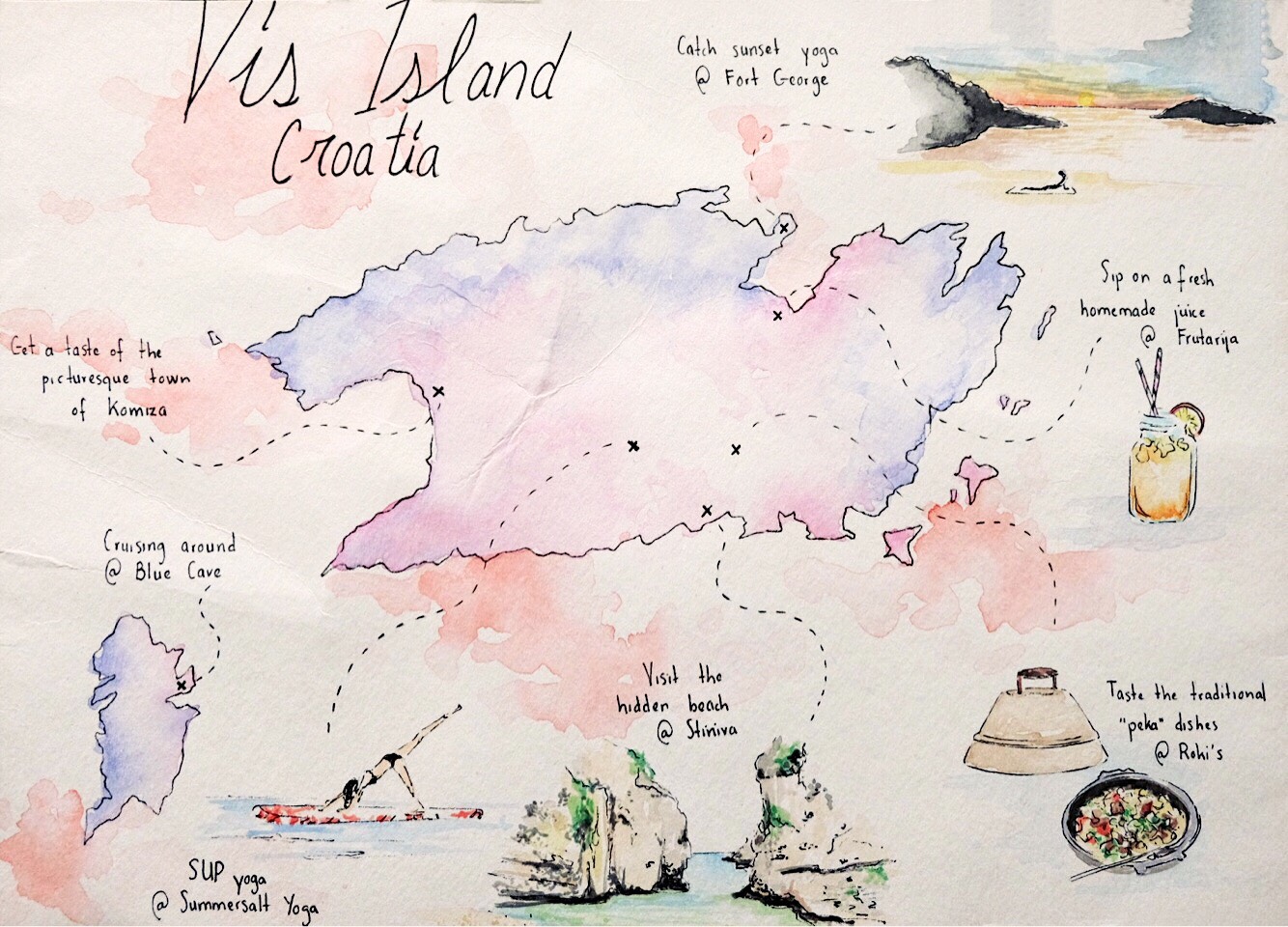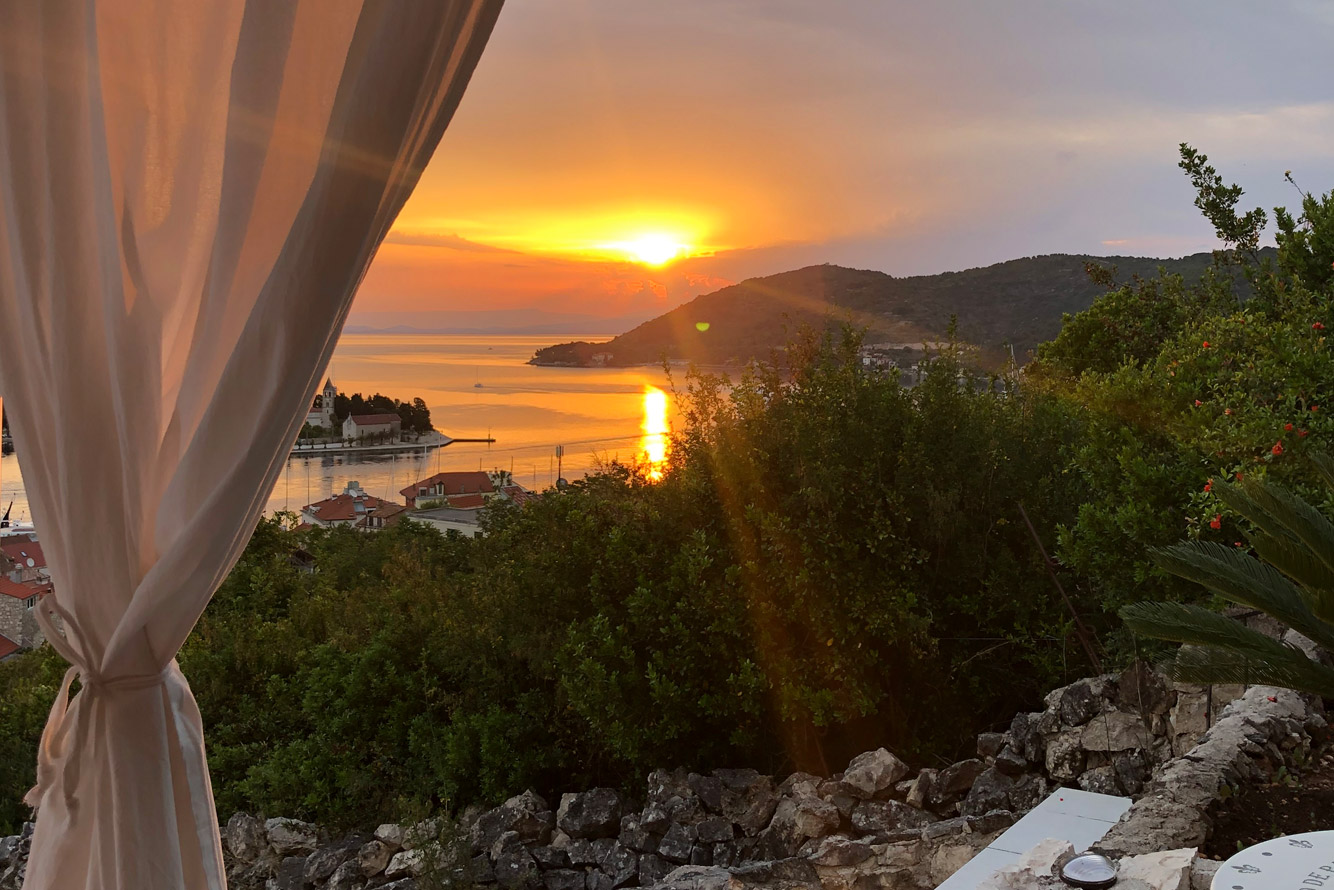 THE TOWN
Vis town is rich with history, architecturally authentic and ecologically pure. It is perfect for those travelers that seek authenticity, nature, gourmet delights and peace and quiet. Vis produces some of Croatia's, best-known wines and you'll have the opportunity to taste some of the freshest seafood.
THE FOOD
Vegetarian, vegan, raw and plant based whole food meals (buffet breakfasts and dinners). We use well locally produced olive oil, cheeses and other goodies. Healthy nutrition is a very important part of healthy lifestyle, that's why we pay a lot of attention and time in preparing it and serving it fresh and delicious for you.
THE VILLA
Villa has four twin rooms and two single / double rooms (six rooms in total).
There are six bathrooms (1 for each room). It also has Air Conditioning, free unlimited WiFi, Television/DVDplayer/CDplayer / Radio, Satellite / Cable, laundry room, wine fridge, swimming pool and an amazing view from the terraces.
Twin Shared Room
2 twin beds. Shared occupancy.
4 rooms available
$2050 CAD/person

EARLY BIRD PROMO
Deposit sent by December 1st 2019
$1850 CAD/person
Regular price after 1st 2019



Single Room
Single occupancy. 1 double bed.
2 rooms available

$2350 CAD/Person

EARLY BIRD PROMO
Deposit sent by December 1st 2019
$2150 CAD/person
Regular price after 1st 2019
7 nights Villa accommodation

Island transfers
 (Transfer from/to the port of Vis to/from the Villa)

2 meals per day (Vegetarian breakfast and dinner)

Unlimited coffee and tea


6 morning Vinyasa classes

Daily Morning meditation

6 evening Restorative/yin classes

Komiza town excursion (half day trip)

Stiniva and Silver beach excursions (half day trip)

***FLIGHT NOT INCLUDED ***
Please arrive anytime after 3:00pm on the 20th, we will be kicking off the retreat with a group dinner.
Registration
30% deposit is required to reserve your spot. All deposits are non-refundable.
Final payments are due by April 1st 2020.
"Nicole is the medicine you didn't know you needed.

Her energy, wisdom and big heart were hard won and she generously shares it with others without losing herself. An excellent model for a way of living and being in the world. I'd never laid eyes on her until I showed up for a week retreat and I got more than my moneys worth. I felt challenged on many levels and I knew I was in good hands from the word go. Thank you for providing the perfect practice, balance and encouragement for what I was needing. I found my way back to myself during this retreat. Thank you!!"

Debi Corso
"It was my first time going to a yoga retreat, and I was not sure what to expect. But I knew the fact that Nicole was organizing it, it could only be great!

Being taught yoga by Nicole is hard to explain with words. You can feel that she has so much love and passion about yoga that it is echoing through her teachings. You feel all the positive and comforting energy she has, and her love of life and joy are contagious. Nicole's sequencing is always prepared with care and with an objective to surpass yourself or, like she puts it, lean into your edges! She also has the best choice of music to go along the sequences!

During the retreat, she had many questions to help learn more about ourselves to begin on a journey of self-love and happiness. She was always there to listen, to talk with or give encouragements through the week. You can see that she truly wants everyone to find their joy in life like she did!

The retreat in Croatia was AMAZING. The food was great (all those delicious meals prepared for us every day), the island was gorgeous (beautiful beaches, crystal clear water, wonderful view from the villa) and the yoga practice was so much more than I thought it would be! The best part was sharing all of that and connecting with wonderful people! Thank you for being an inspiration for everyone. You are an amazing human being with so much love and compassion!"

Maxime Paradis
"This was my first retreat ever and all I can say is Nicole you are AMAZING! The destination was beautiful Croatia ! I could not have asked for a better week filled with exciting adventures ! We practiced yoga twice a day , ate like champs ( the vegetarian meals were delicious ), experienced the breathtaking blue cave , explored their beautiful beaches , indulged in their famous grilled octopus all while making meaningful and lasting friendships. Throughout the week, Nicole would ask us many questions that we got to reflect upon. I learnt so much about myself through these intimate and soul searching questions. Nicole's positive and electrifying energy as well as her ability to make everyone around her fall in love with the art of yoga ( just watch her !) make her in my books a master of her work! Thank you so much Nicole for truly allowing me to lean into my edges and discovering that there is a lot of yumminess inside!"

Christina